This gold brooch was created for the "Cabinet of curiosities" - an unusual project by Marta Norenberg's Sztuk Kilka- Art Jewelry. A few months ago, Marta told me about her idea. She decided to encourage 11 jewelry artists to create one piece of jewelry in which form isn't important, it won't be a commercial project. Instead, it is supposed to be a piece that will delight us and that comes from our hearts. You can read a beautiful description of this project on Marta's blog. And an additional effect of this event is a beautiful calendar for 2021 year!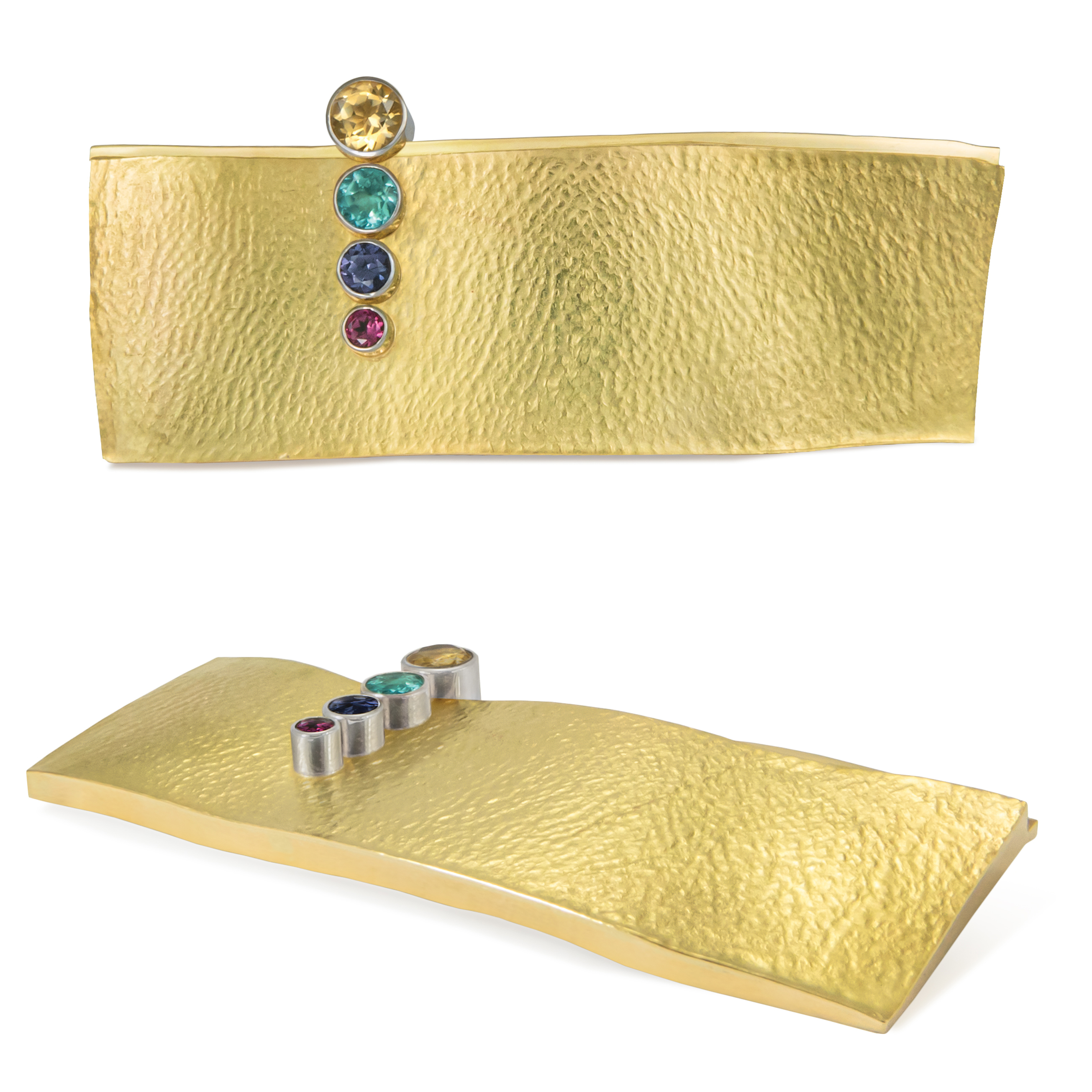 BROOCH - IMPROVISATION - 18k* gold / lemon quartz, apatite, spinels.
*to read more about 18k gold click here.

The initial outline of the brooch was the starting point. At the next stages, I followed the form that the processed gold took. The format, metal stresses, offsets during connecting, provoked to searching for new solutions and arrangements. Improvisation. I adore it in the creative process! Pure freedom!
The texture of my brooch resembles leather. Gold is such a second skin for me with its sunny color. Colors are the opening of the entrance to my soul, which is crazy with multiple combinations. Sensitivity to the slightest differences in shades. Horizontals and verticals, geometry, squares - this is my well-being, despite the shaking of my soul. They give me calm. Simplicity.
What I carried inside was quite hazy. I knew that it must be gold - because I love it as a material, along with its sunny color. I knew it must be a brooch, because in this form there are no limits of the body, even though ... I don't like making brooches! The third certainty - colorful gemstones, although setting them is arduous work.
I started the project. I have been figuring out for a few days. I felt pressure to demonstrate my skills. Lots of drawings, cutouts, various designs around a thoughtful form. Until I gave up. I asked myself: do I really have to prove anything?! It became easier. I chose the stones that were to be the axis of the object. I was not sure if I would be able to stay with this colorfulness till the last moment. I love colors and their combinations. Once I want to use multiple combinations, then I cut, eliminate and put another element aside again. As a result, when it comes to color, very minimalistic forms arise in my workshop. This time I fought the temptation.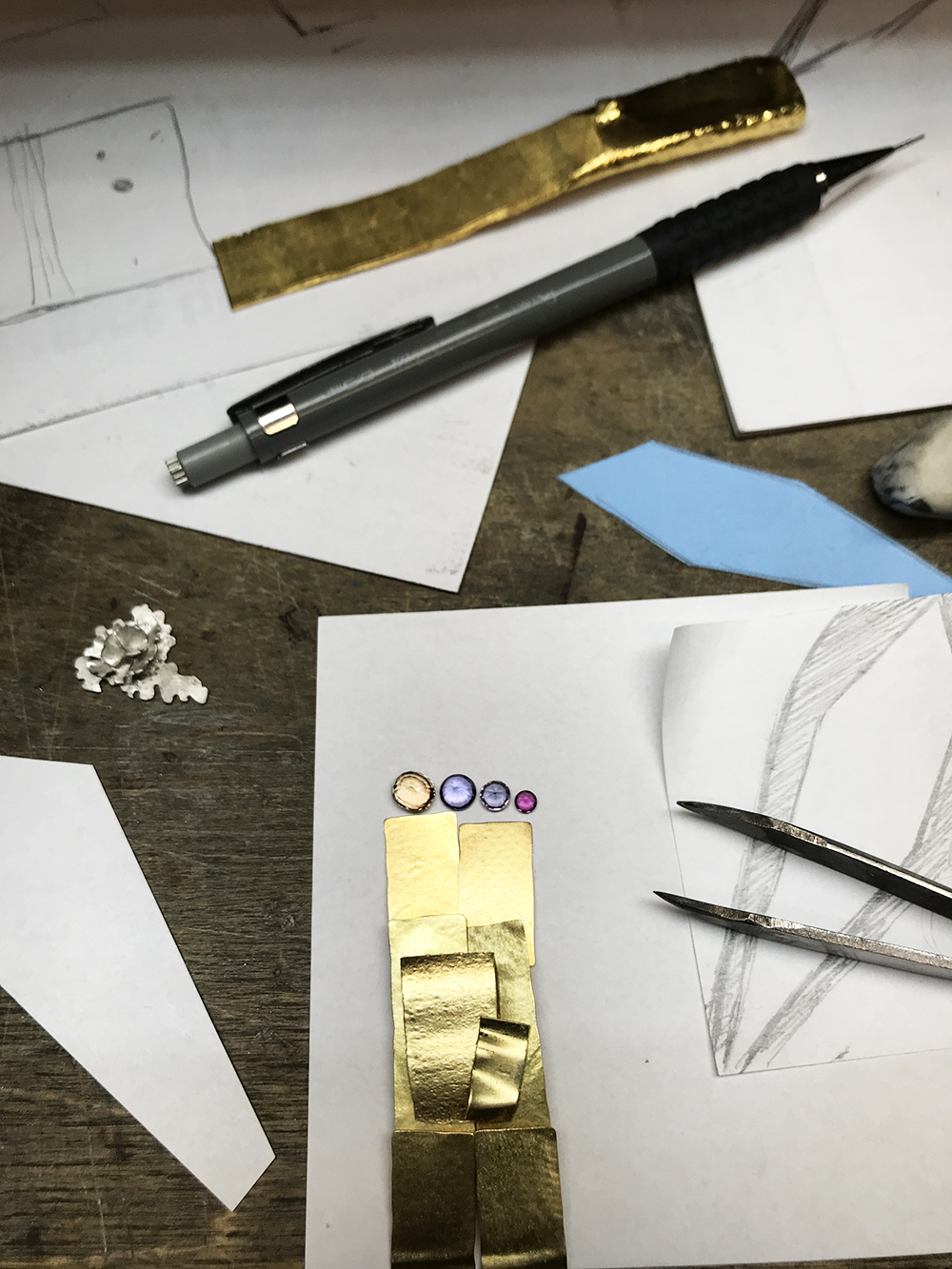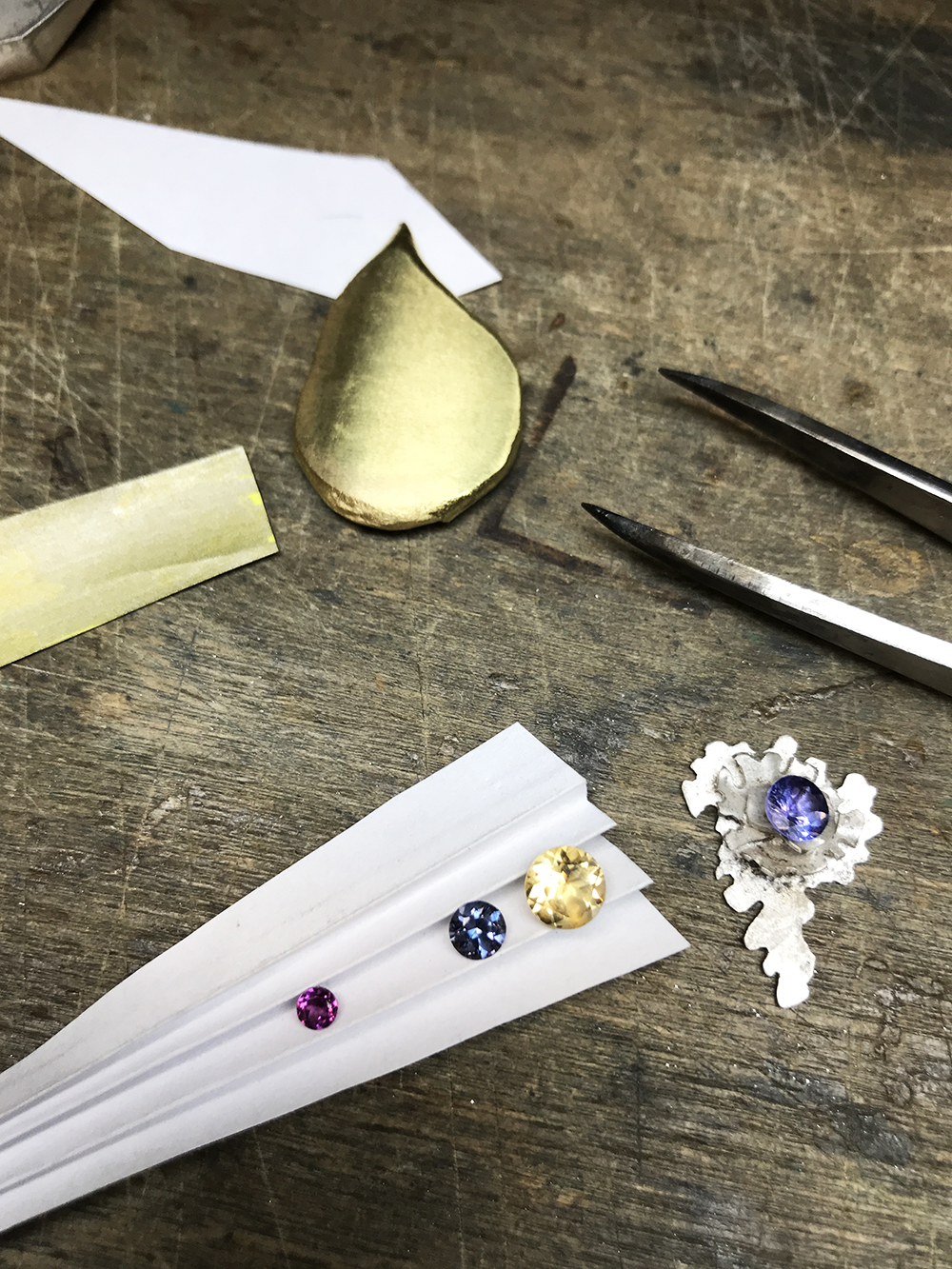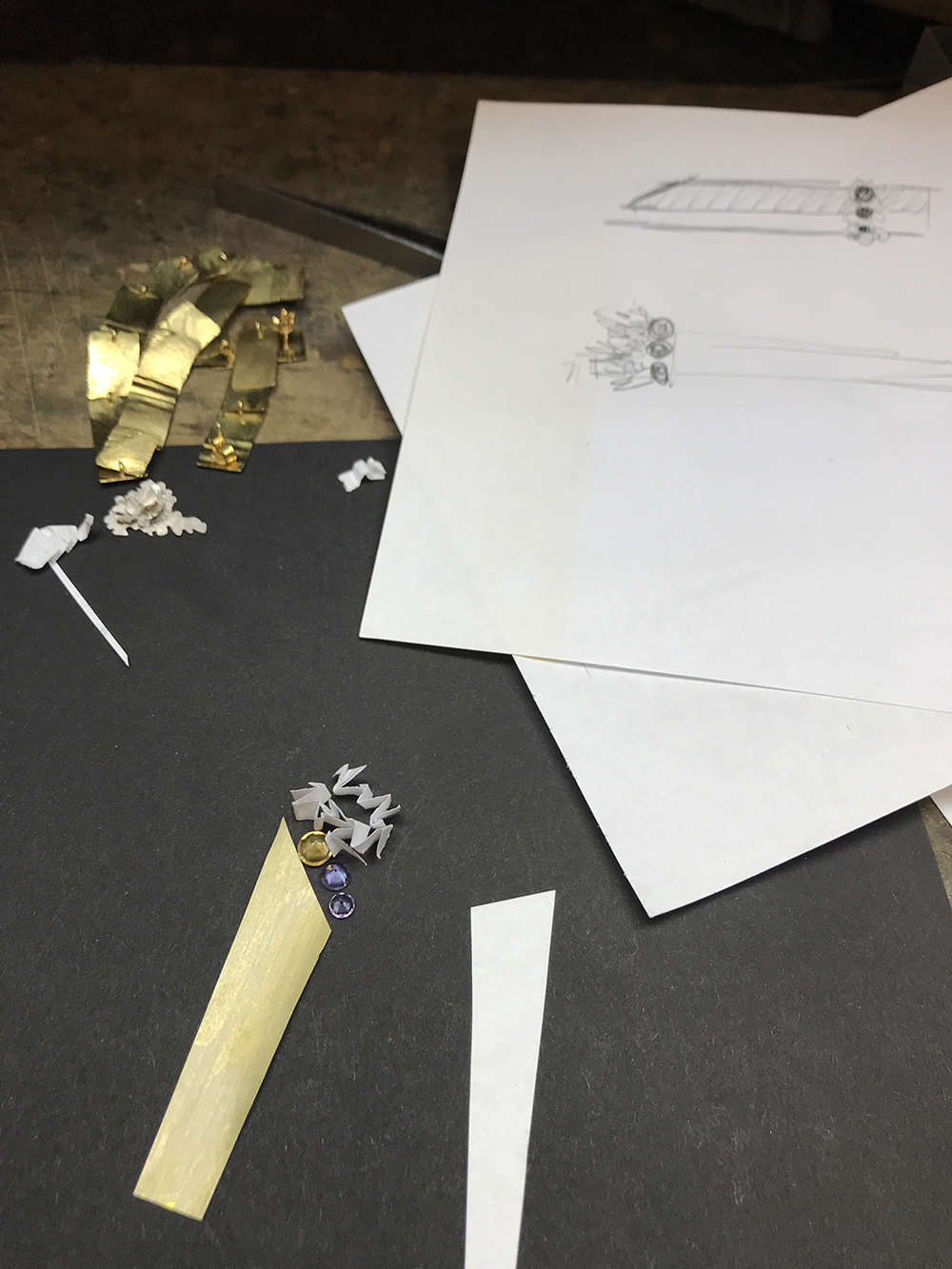 There is an initial design- paper cutted. Simple geometric form. The full outline is in my head, but metal is the matter that sets the direction. I start with my original texture. I know that once made, it cannot be damaged because it won't be possible to recreate it with cutters or files. It cannot be polished, and this awareness bucks me up. After rolling it was a form that I would never have drawn myself. It is amazing. I just follow it, I don't interfere. It was the first turn of the project. Then an avalanche of others. I add the next construction elements and solder. The metal is working. When the stresses of the metal release on the surface, waves are created, new bends.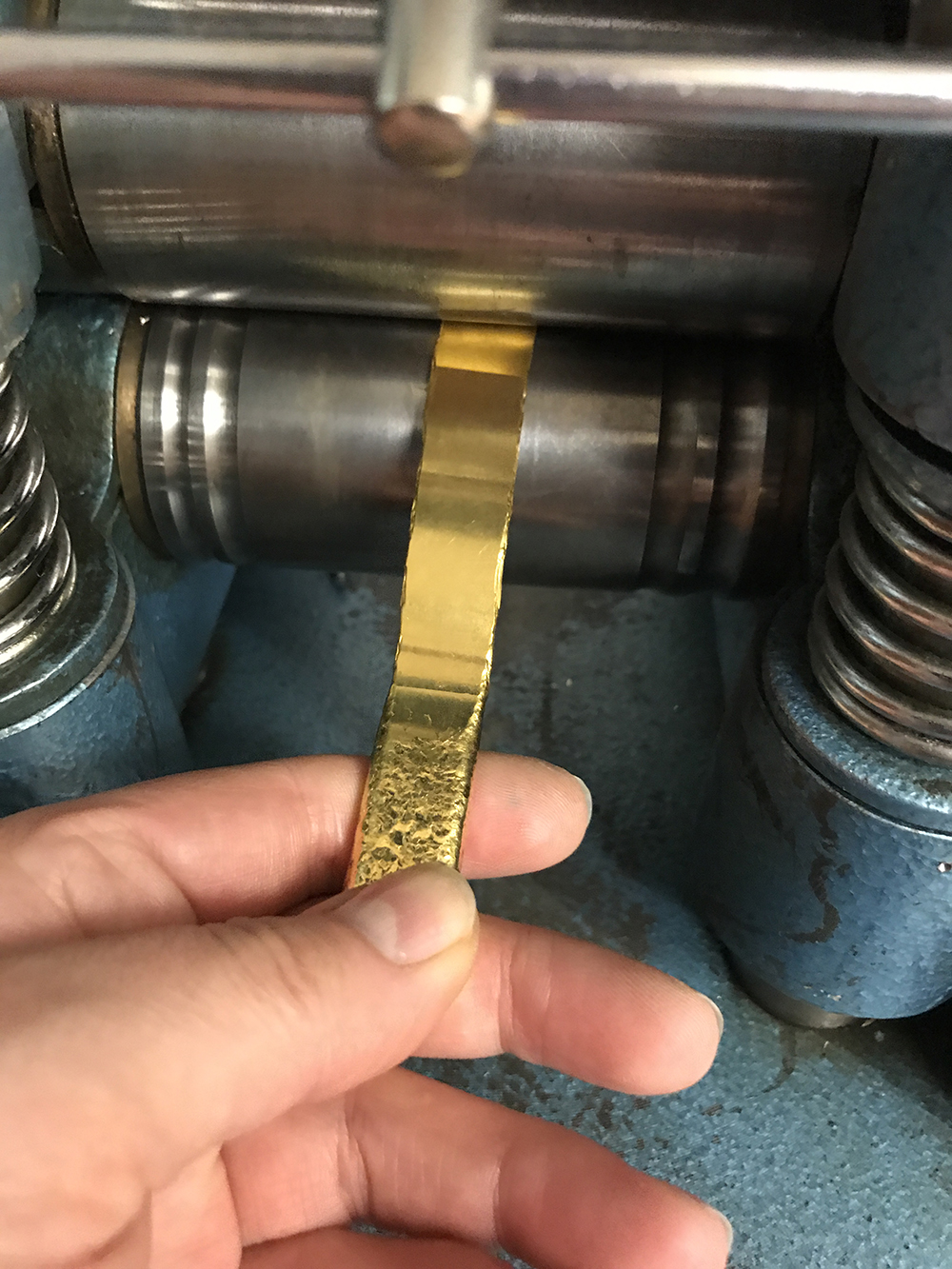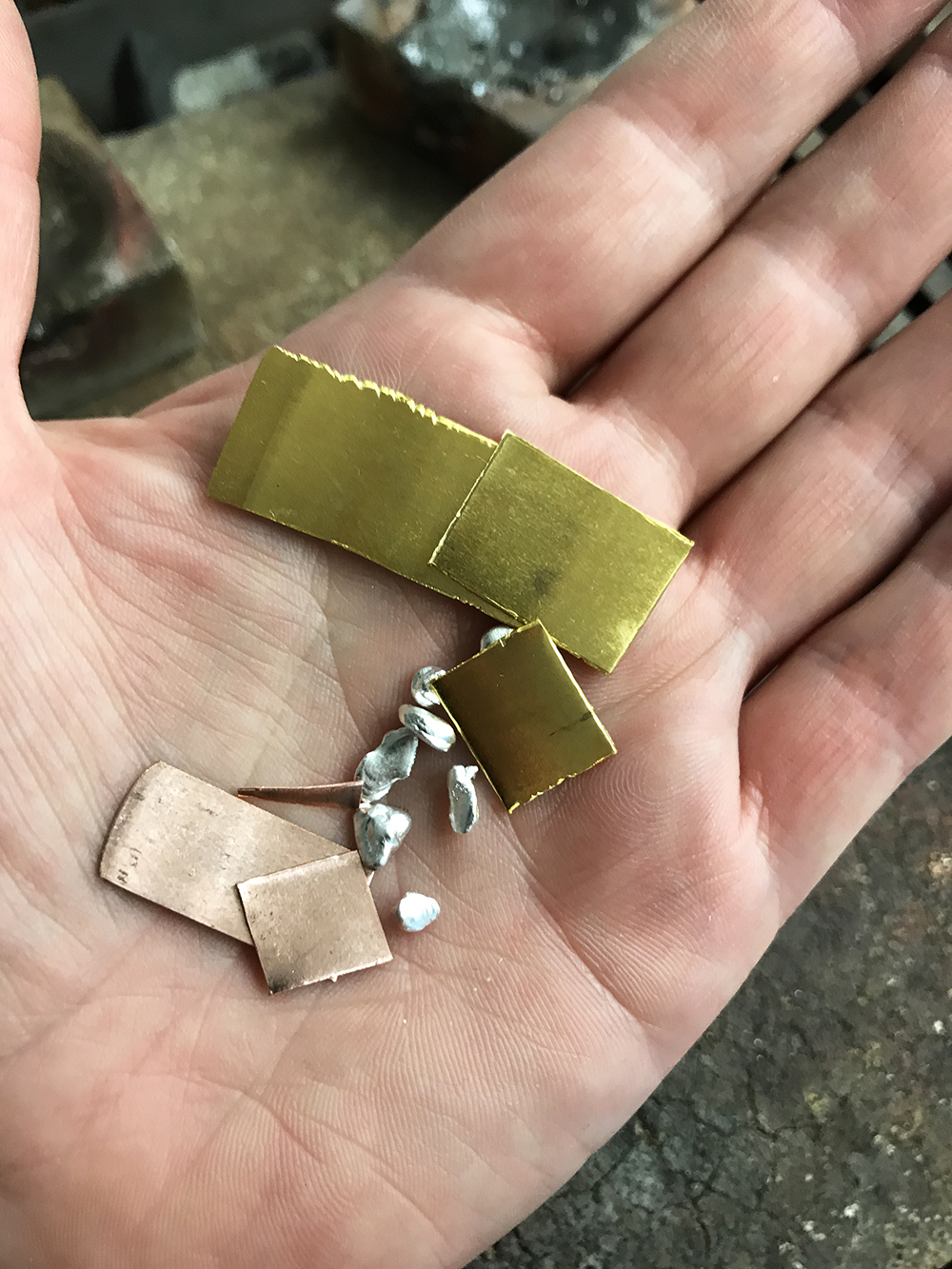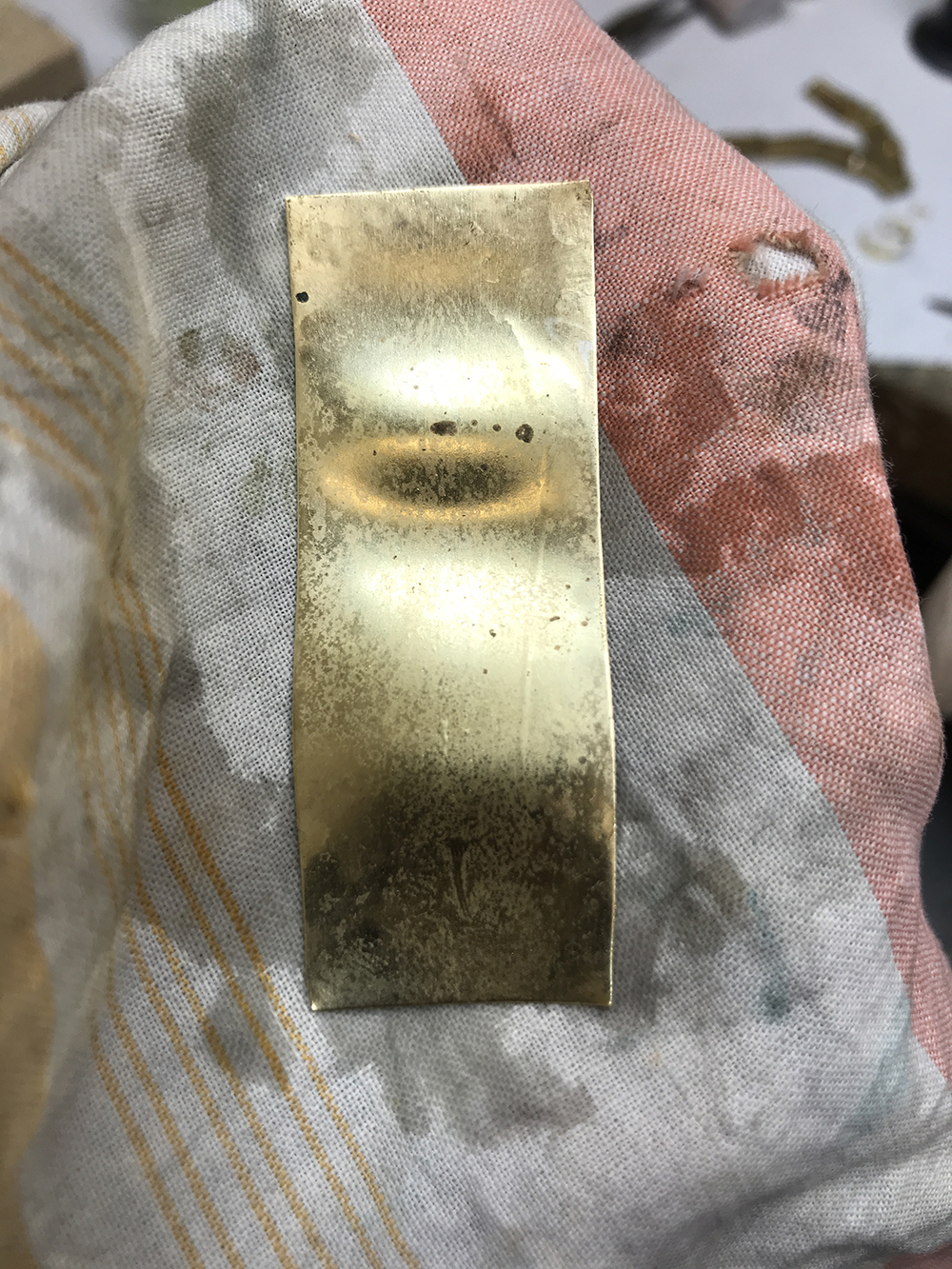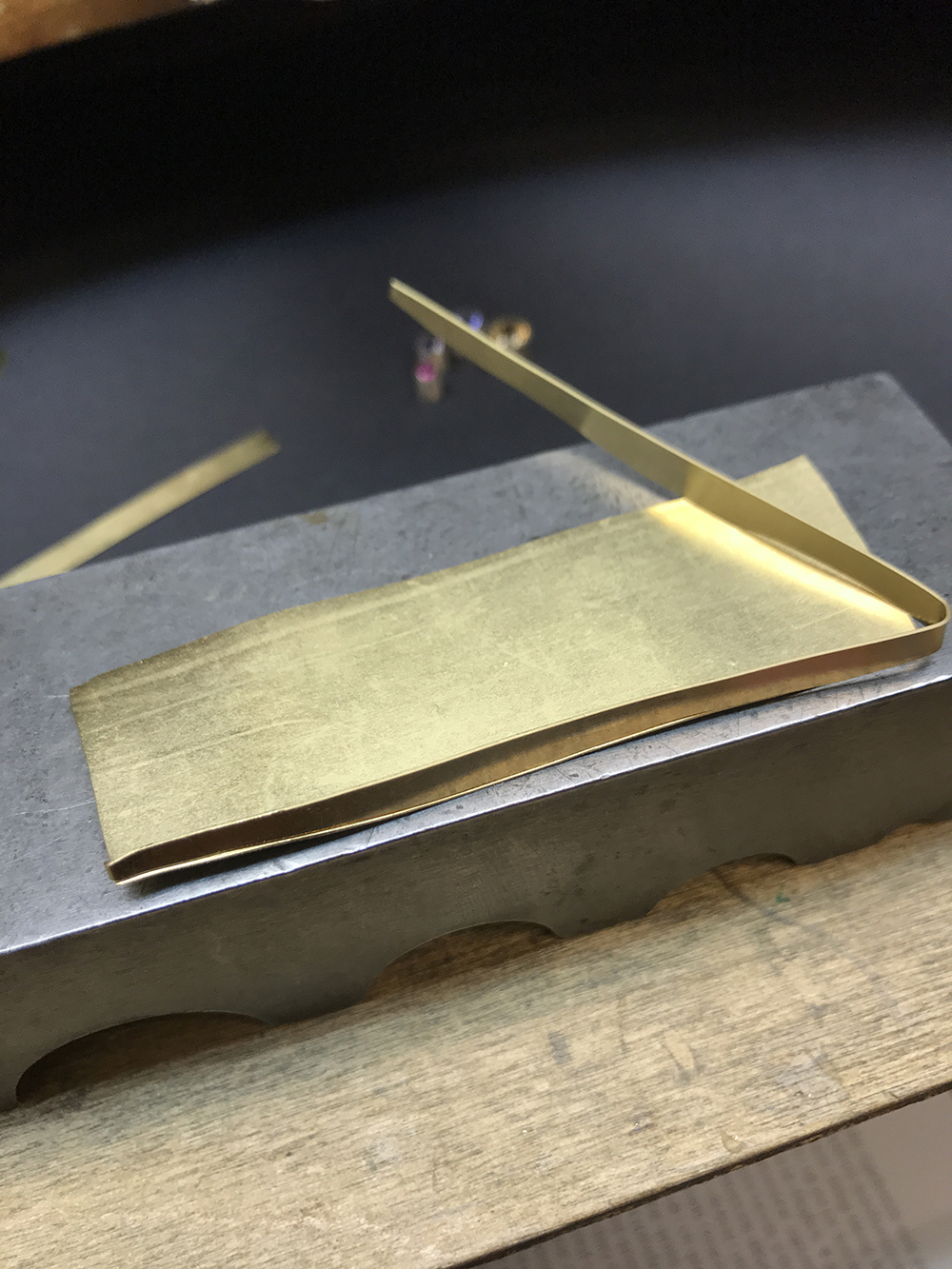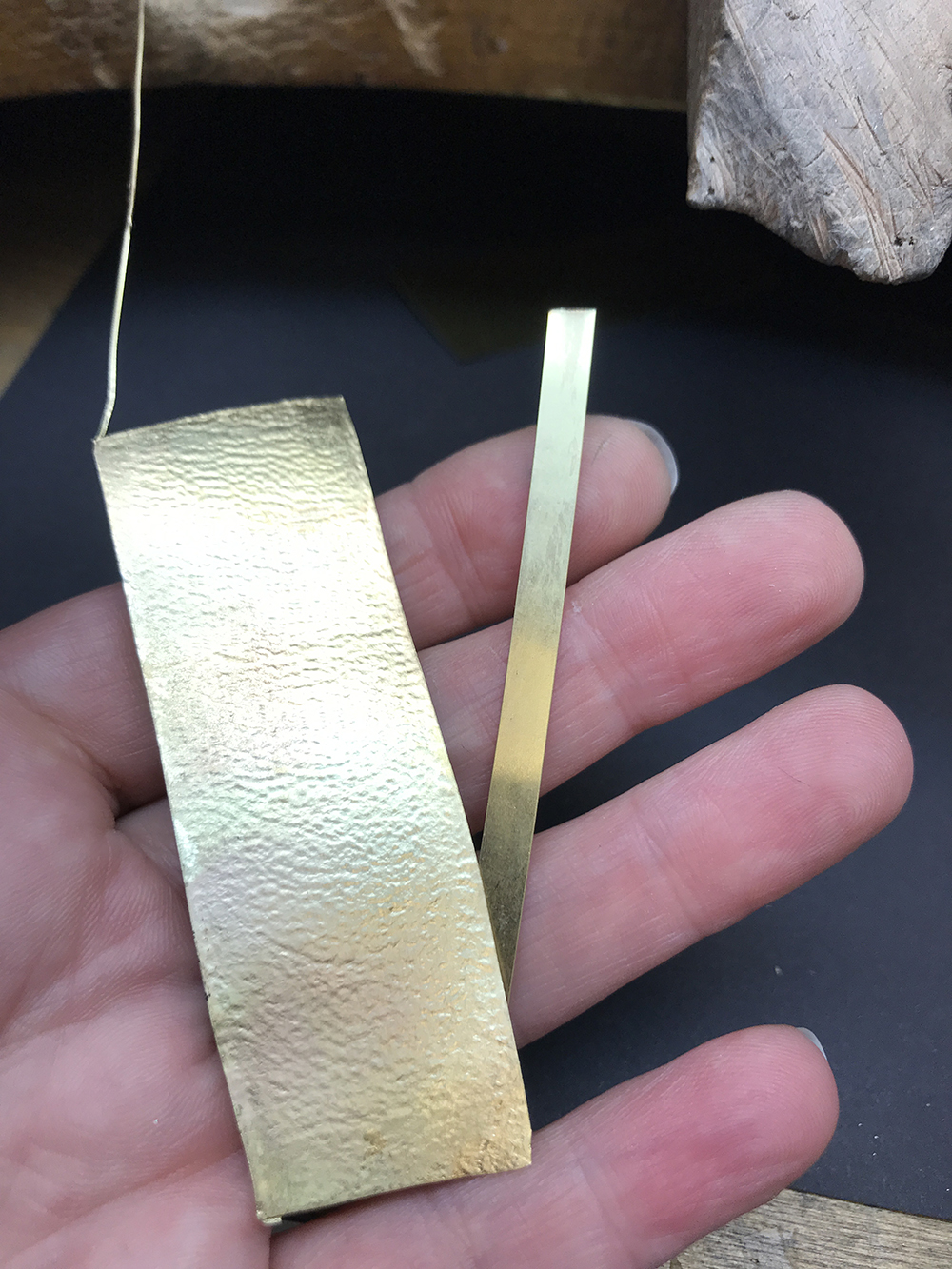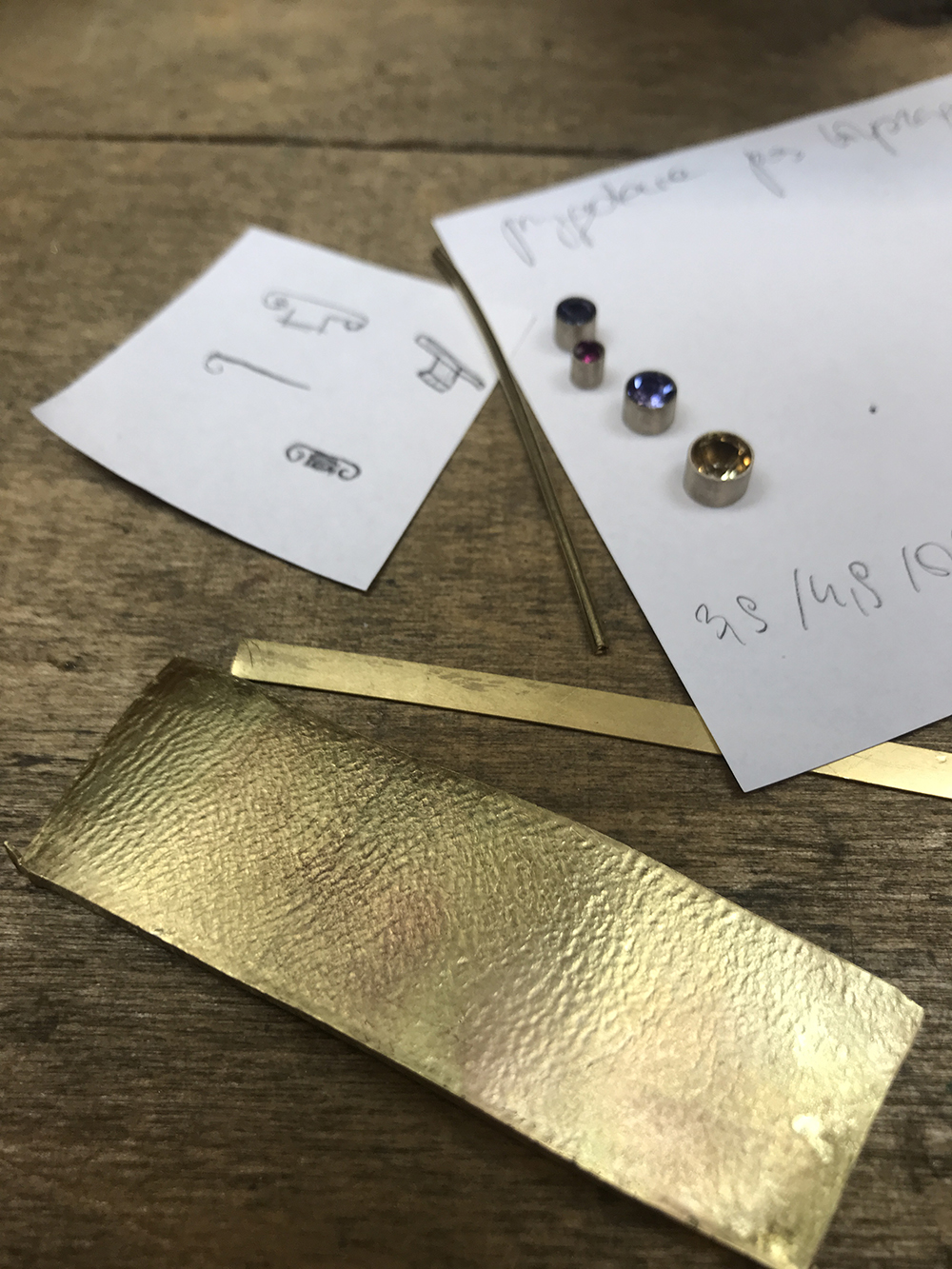 When I solder the frames, evenly in relation to the surface, the sheet, which I thought was fully relaxed, bends again under the influence of the flame. Then nothing can be done. The frames are beautifully soldered ... but at an unintended angle!!! All solderings are overloaded with risk, with the same fear of the texture, nothing can be changed anymore. The whole idea hit it again. I put it off for a few hours to let go of my perfectionism and a new picture to draw in my head. I find advantages and adjust new elements anew. The form will be surprising and harmonious on every point of view. I would love when the object will be interesting integrally, bringing joy to whoever picks it up. It would be tempted to stroke, touch, watch.