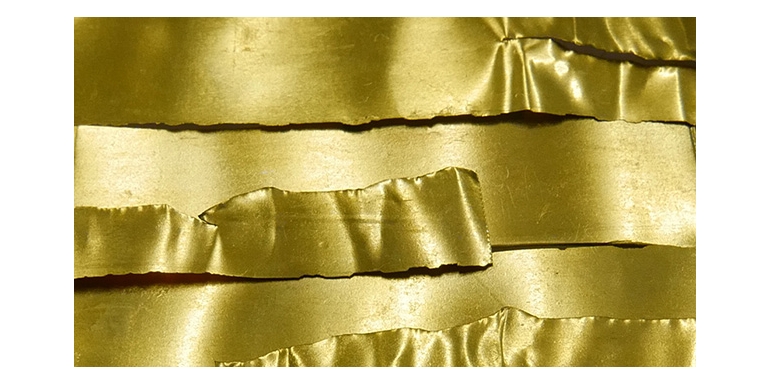 I was wondering for a long time where to start my stories about the goldsmith's world. I put together a sensible sequence of threads in my head, but my thoughts kept returning to that most important moment - the moment when I fell in love. To love, from which the name of the field in which I create derives. It cannot be otherwise - GOLD :)
I could overwhelm you with news about its chemical and physical properties, applications, and the like, but that's what you'll find mostly on Wikipedia. I will tell you about those that still has an impact  on my love and affects the work with this material.
Pure gold is extremely malleable, forged, which means it is very soft. A thin gold sheet - in my studio I can get one with a thickness of 0.08 mm - can be torn in my fingers like paper! This sheet can still be cut until the sun shines through it! I haven't seen that kind of process, but this greenish light must be beautiful! Still talking about its malleability: 1 gram of gold can be used to pull a wire nearly 2.5 kilometers long! Yes, 2500 meters. But I am not able to do this in the conditions of my studio :) This photo on the right is just 1 gram of pure gold.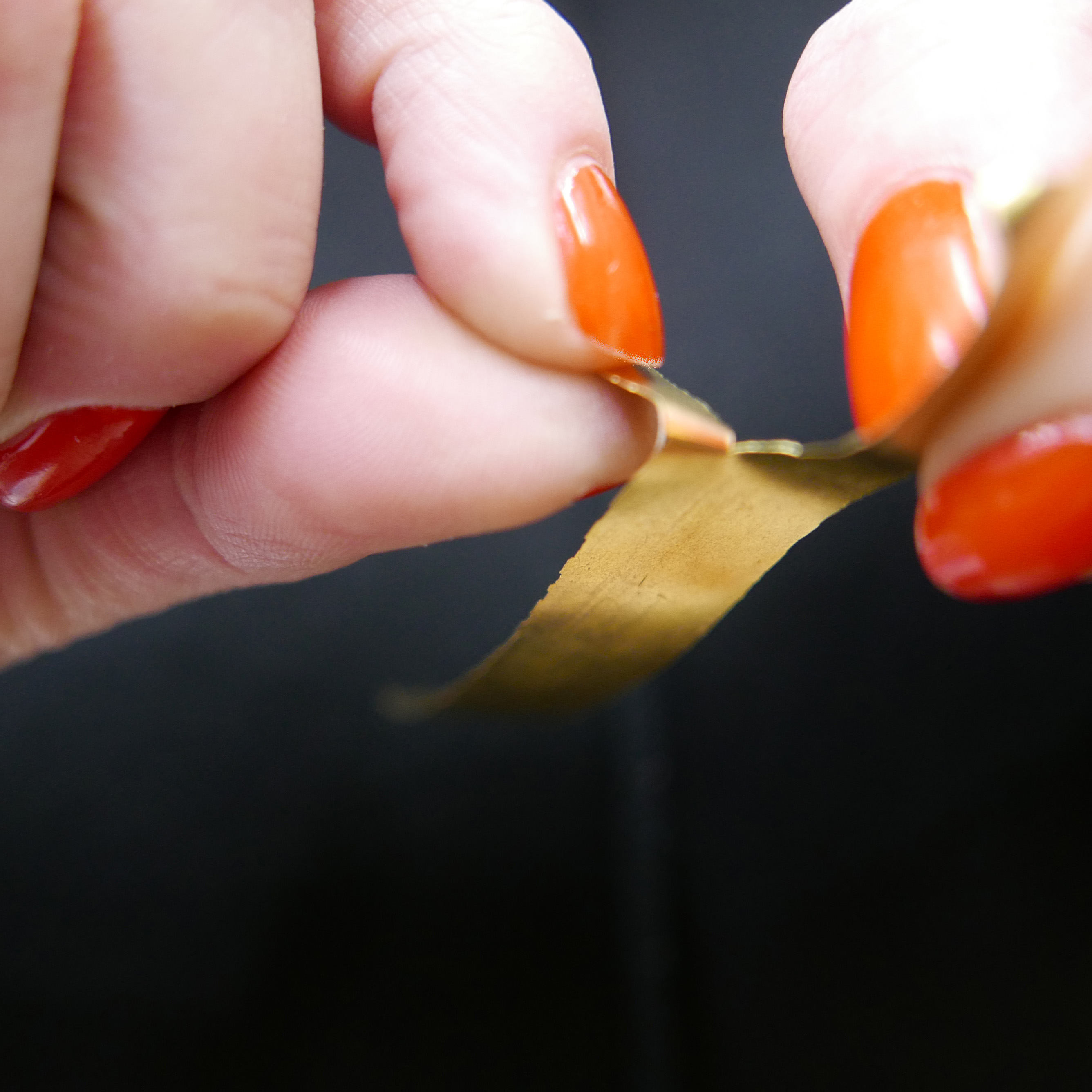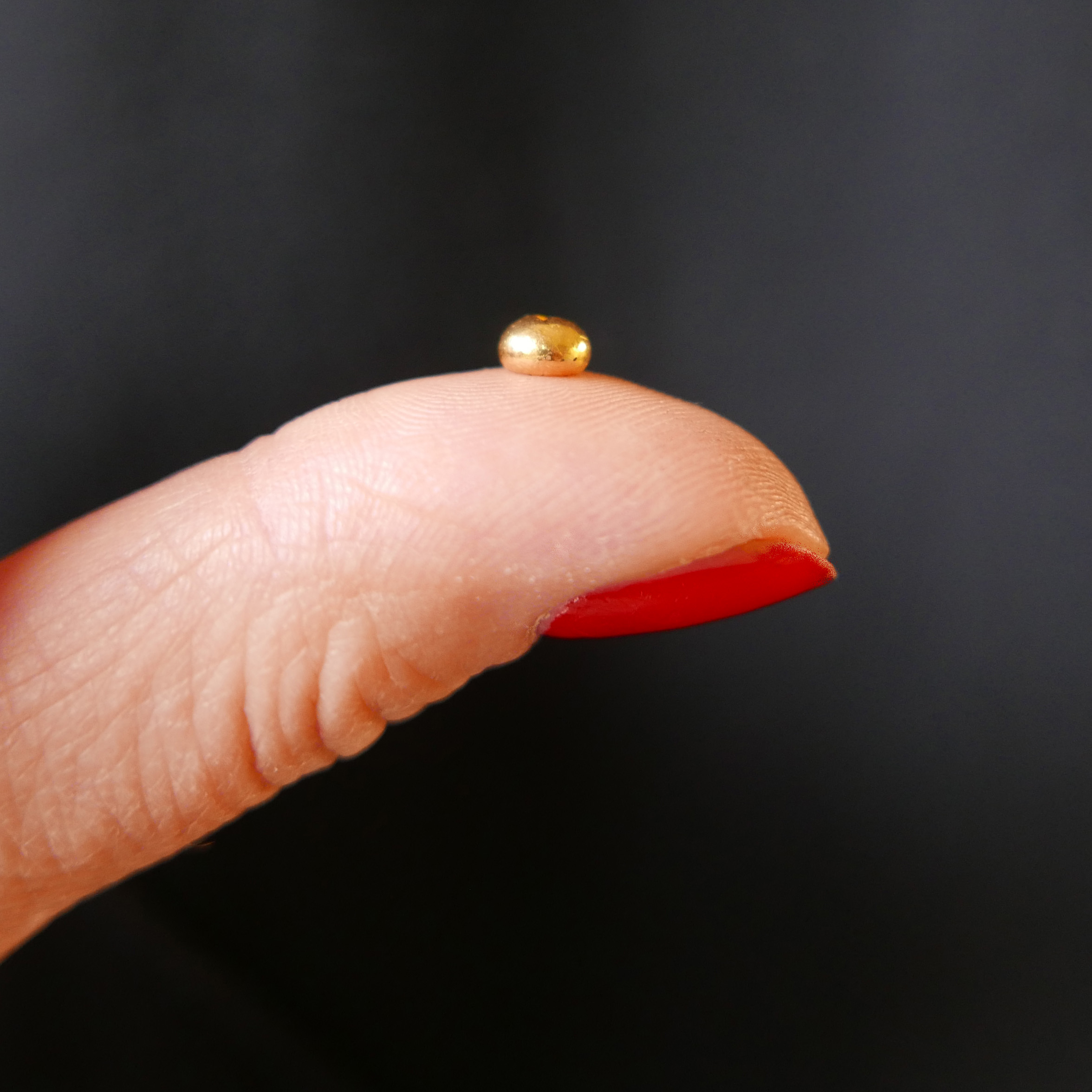 Its plasticity is a great advantage. It allows you to create amazing forms in this material, which, unfortunately, are impermanent. Pure gold products deform and wear off quite easily. But they have this amazing color and weight! Gold is one of the heaviest elements (specific weight of gold is 19.3). That's why I like to create massive jewelry so much because I love to feel the weight of gold on my hand or neck.
And to give it hardness, elasticity, to change its physical properties, gold alloys began to be used with other metals. In a goldsmith's workshop where jewelery is made with traditional techniques, it is mainly copper and silver, nickel or palladium. These metals also affect the color of gold. And here we come to the point -  SHADES OF GOLD.
Can the shade of gold be changed? I love colors. I like to play with them, mix and choose. In terms of home renovations and repainting, it is a ordeal, but in the studio? ... great fun! By mixing three metals - gold, silver, copper, I can get a huge range of shades of gold: from rose to greenish. I choose them to the form I create and the color of the stones I want to frame. Color is an indispensable element of the composition for me. Below you can see the basic components of the alloy and the three shades of gold.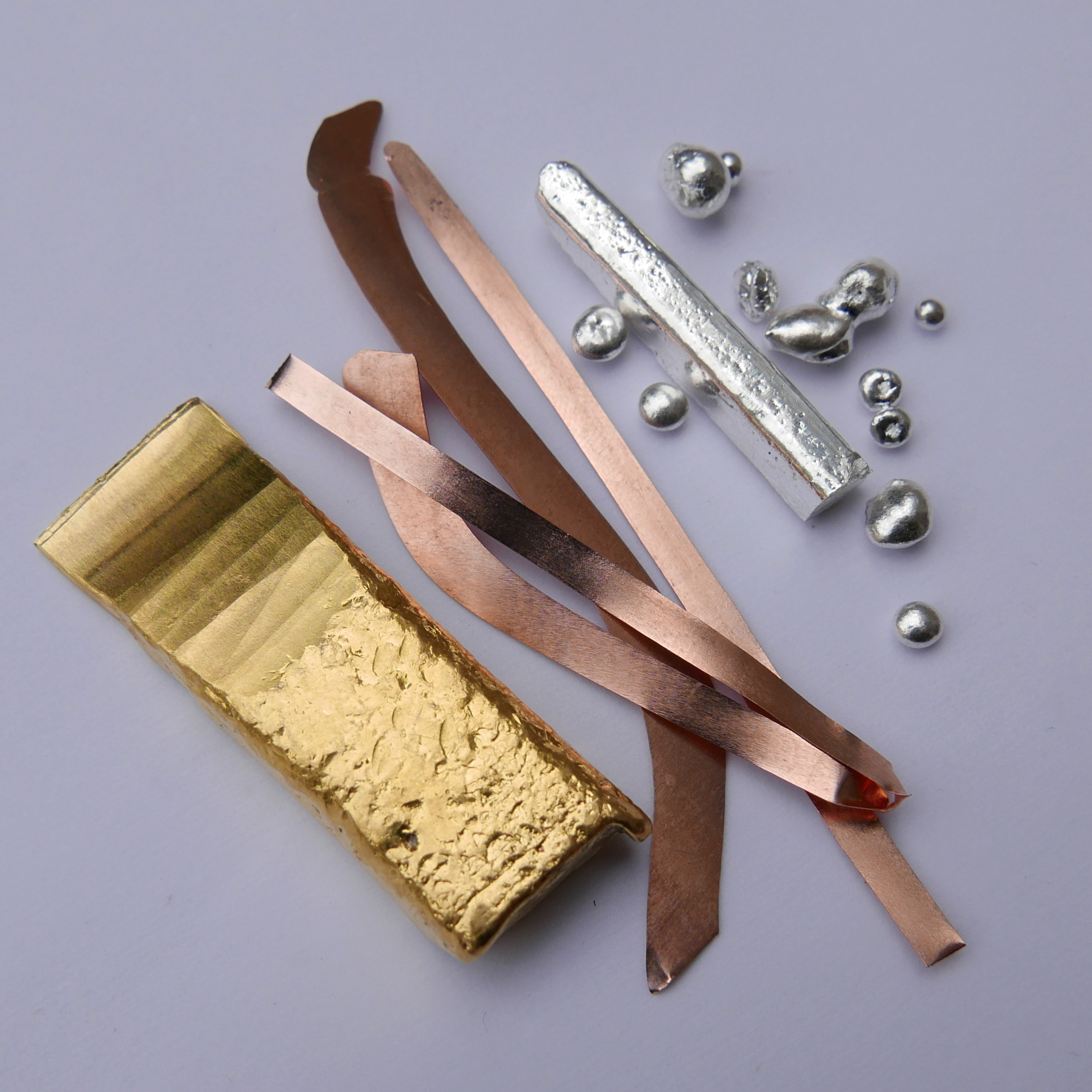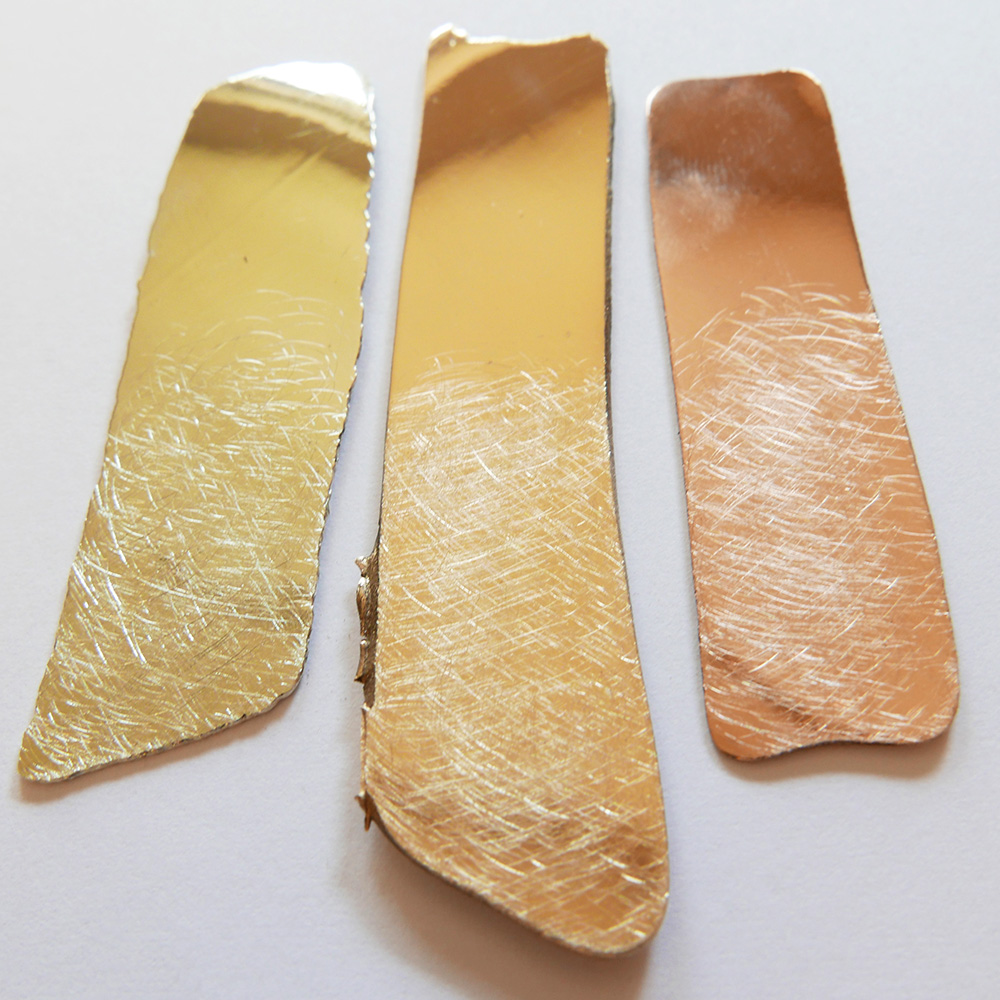 Here are the schematic colors of gold that can be obtained on the example of an alloy in the 585 trial. You can read about the trials of gold in the blog post.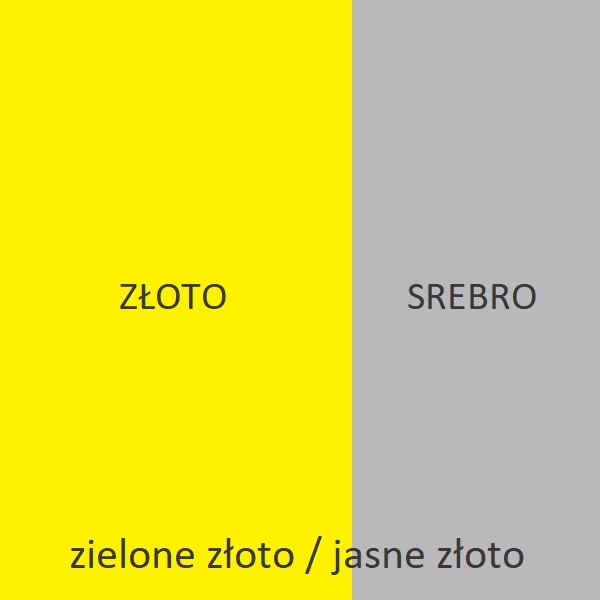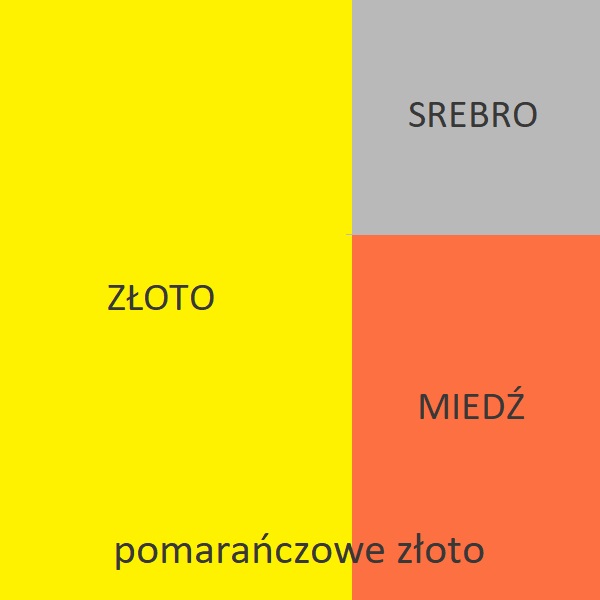 ....    ....   ....
I remember when I decided to frame a beautiful labradorite specimen. Its turquoise-blue iridescence was best matched by a very light, almost aquamarine shade of gold. So the one with the greatest amount of silver. It was similar with this turquoise. Although here there is a little copper in the alloy to make it warmer. I mix these metals so that the resulting shade brings out the depth and glow of the gold in the most beautiful way. My favorite color for creative activities is YELLOW GOLD.
ROSE GOLD - formerly called red or "Russian", it stole my heart not long ago. This reluctance of mine probably stemmed from the old days, when I received a lot of jewelry imported from the Soviet Union, often crude designs from mass production. There, the weight of the metal was more important than the form it turns. The first ring that I created as a store offer was (of course! My beloved form) - a square with a beautiful diamond. For years, it has always been my favorite ring, a design that I have been wearing on my ring finger every day :). Currently, this color has returned to favor for several years and is increasingly sought after by customers. Due to its copper glow, the jewelry made of it acquires a unique character.
There is one more color that I have not mentioned above - WHITE GOLD. It is obtained by adding nickel or palladium. Both of these elements have bleaching properties and "take" the yellow color from gold. The result is a yellowish-white alloy that is not as cold as silver. And to emphasize this whiteness, the product is electrolytically finished with a layer of rhodium, which in turn has a metallic white shade. White gold is often used to make engagement rings. This color is also used, supposedly like platinum, for the diamond settings to bring out their white glow.
There is one more color recently very popular - BLACK GOLD. But don't be fooled! This is just an electroplated ruthenium coating, applied exactly like the rhodium coating. A layer that wears off while wearing the jewelery and after a few months you will see yellow or white gold underneath. So black gold is ruthenium gold, only covered with a thin black coating of another element. It is not a component of the golden alloy.